When Should Christmas Time Start?
Take the poll below to let us know what you think!
By: Zoey Jares, Staff Reporter/Advice/Sports
November 14, 2021
As we enter the 2021 holiday season, a controversial question is being asked, once again. When is it really time for Christmas celebrations? Every year people from all around the world come together when they bring out their flashy decorations, prepare delicious holiday foods, and play joyous Christmas melodies. However, consistently varying opinions tend to divide those people. To a large majority of citizens in our nation, this is a very important matter to discuss. Some enjoy starting the holiday season as early as October or November while others don't start until December 1st. Strong beliefs on both sides and little room for negotiation frames the age-old question-When should the Christmas season begin?
What are the Opposing sides?
One way someone may look at Christmas time is by comparing it with the rest of the year. There are so many festive customs to enjoy in the holiday season and arguably, one month just isn't enough time to fully appreciate everything there is to offer. Christmas music, decorations, and foods alone will undoubtedly give you a great deal of holiday cheer to share with those around you. When you are only given 25 days to completely embrace the true Christmas spirit it feels as if the holidays are gone in the blink of an eye and before you know it; the holiday season is eleven months away.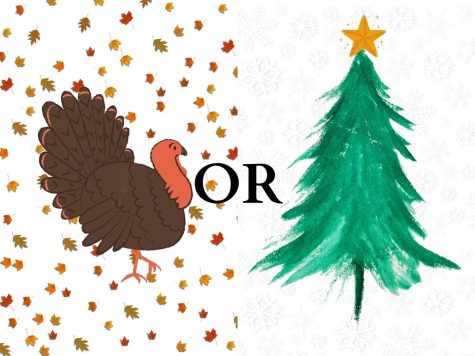 Although Christmas is perceived as the most wonderful time of the year, going all out for the holiday so soon could be overbearing. When Christmas cheer is being thrown at your face a little too early it can become annoying and get old very quickly. Besides, there's still Halloween and Thanksgiving leading up to Christmas time! Although the intention is not to forget about those holidays, and rather to spread Christmas cheer, it can seem like important dates and celebrations are being neglected just for presents and decorations.
Opinions of Timberline Teachers
It seems as if our nation is torn every year between differing opinions. This divide sparked my curiosity and I want to know how our very own Timberline Teahcers feel about it. We asked a few faculty members what they
"
Every time I go to buy Halloween candy they already have Christmas decorations out!"
— Mrs. Pond (Spanish)
thought about it and in their answers, we found solid arguments from both sides. Mrs. Pond told us, "I think it should not start until after thanksgiving. It doesn't allow for separation between holidays if you start too early." Later she also said,  "Every time I go to buy Halloween candy they already have Christmas decorations out!" That is a prime example of squishing the holidays together. As soon as fall comes around stores have decorations for all of the holidays out until January without giving shoppers a break. Similar reasoning was brought up later when we interviewed Mr. Barnes, he said, "After Thanksgiving, clearly. It seems silly to be
"
I think Christmas should start on December 26th. I love Christmas!"
— Mr. Coronado (Marketing; Finance)
mixing the holidays, you should celebrate one well and then celebrate the next." During interviews we also heard from another side when we asked Mr. Coronado, he said, "I think Christmas should start on December
"
Everyone celebrates in their own different ways and I honestly think we should all just accept that."
— Ms. Thorpe (Art; Photography)
26th. I love Christmas!"We asked what his reasoning was for Christmas all year and he had the best response, he told us about how important Christmas is to him, and not because of presents or decorations. He said, "I can't get enough of family and friends." The last teacher we asked was Ms. Thorpe, she appeared fairly neutral in her opinion and said, "I think what's acceptable is beginning Christmas in mid-November." She talked about how society is so stuck in its ways and we should all agree to disagree. She wrapped up her statement by saying,"Everyone celebrates in their own different ways and I honestly think we should all just accept that."
Share Your Opinion!
It was very exciting to see what our very own Timberline teachers thought of this dilemma. Each one of their responses was right in every way and I'm glad we got to see some diversity in their opinions. I would love to hear what the students think in the poll below or in the comments! The winter holidays are a very important time of year to many Americans and the Timberline Paw Print staff would love to hear from the rest of our fellow students.
When Do You Think Christmas Should Start?
Sorry, there was an error loading this poll.
In the end, it doesn't really matter what others think about Christmas time. Whether you like to decorate as early as July or you wait until December 24th, there is no wrong answer to this controversy. Make sure you let us know what you think on our poll or in the comments, Happy Holidays Wolves!