Everything That Went Down in the Women's Figure Skating Olympic Final
On the 1st of Feb. 2022, 15-year-old figure skater Kamila Valieva and the Russian Olympic Committee's (ROC) Figure Skating team arrived in Beijing ahead of the 2022 Winter Olympics. Less than a week later, Valieva became the first woman to land a quadruple jump in the Olympics, steering the ROC team to a gold medal. One day later Valieva was suspended from the competition following an abnormal drug test. But the controversy reached its true pinnacle when the competition exploded over a week later during the Women's Final. How on earth could everything have gone so wrong?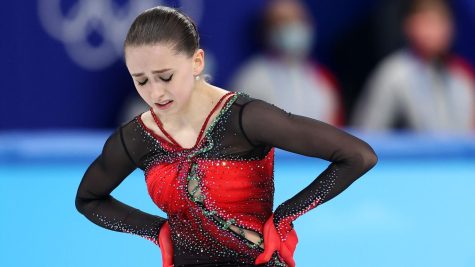 While Kamila Valieva would be allowed to compete, she would not receive a medal even if her score earned one. In the figure skating world, long time legends were outraged that she was still allowed to compete. Tara Lipinski, an American figure skater and 1998 Ladies Olympic Champion refused to commentate on Valieva's performance after releasing this statement via Twitter: "I strongly disagree with this decision. At the end of the day, there was a positive test and there is no question in my mind that she should not be allowed to compete. Regardless of age or timing of the test/results. I believe this will leave a permanent scar on our sport." But since Valieva was a minor, and the abnormal test results were from Dec. 2021, the Olympic Committee had made accommodations for her. And even though Valieva was the favorite and she could no longer medal, the Russian team looked to be in great shape. 
Alexandra "Sasha" Trusova led off the Russian team's performances, and the skate was incredible. She landed five quadruple jumps, known as quads, in her program, making her the first woman ever to do so. However, in order to complete the five jumps, Trusova neglected the artistic component of the skate, and her performance lacked the emotion that the other competitors had. Still, when Trusova came off of the ice she was excited and smiling, clearly happy with her performance. 
Then it was Anna Scherbakova, who had come second to Valieva all season. She delivered a stunning performance, incorporating two quads as well as brilliant artistry and emotion. Her attention to detail and stunning musicality ultimately landed her a higher score than Trusova, and her toothy smile brightened televisions everywh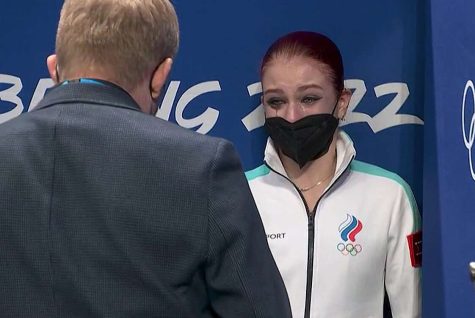 ere. 
Finally, it was time for Valieva's skate. She sat in first place after the short program, and clearly still wanted to prove herself. But when she stepped on the ice, the cloud of doubt and controversy over the failed drug test still whirled around her. She fell twice during that fateful free skate, something that she had never done in competitions before. As soon as her music stopped, she bursted into tears. Once she got off the ice, she received her score that landed her in fourth place and declined any interactions with the media. But Valieva wasn't the only one who was emotional. The once intense and stone faced Trusova was crying and screaming at anyone and everyone, particularly the coach to all three girls, Eteri Tutberidze. She could be overheard saying things such as "everyone has a gold but me," and "you knew everything," to her coach. 
This, of course, launched an entirely new debate over what exactly Trusova was referring to. Perhaps she was saying that Tutberidze had known about Valieva's history with doping, or that she knew Trusova would never win the gold with her routine. Either way, the quiet reverence that was often shown to Tutberidze had dissipated, instead leaving only an eruption of fiery anger. 
Yet forgotten in the mess of running mascara and flashing cameras was Scherbakova, now an Olympic gold medalist. She was still sitting quietly on the couch in the green room, clutching a teddy bear tightly to her chest. Her eyes seemed to gaze off into the distance, as if she truly had no idea of the weight of her accomplishment. She had no one to celebrate with, as no spectators were allowed and her coach was off attending to Trusova and Valieva. It was just a 17-year-old girl and her teddy sitting humbly alone.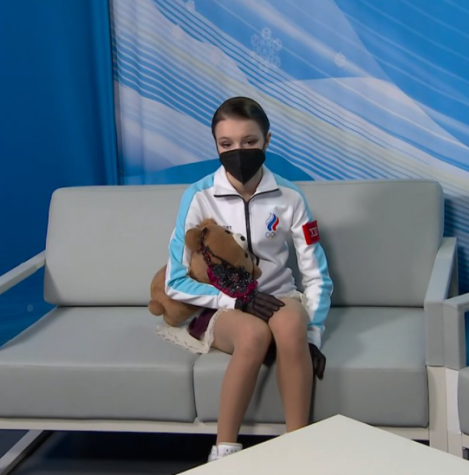 Since the finale of the women's competition, the world has initiated a debate surrounding the future of figure skating in Russia. Why did this competition end up the way it did? Who should be held accountable for the issue of doping? Should we blame the girls, or their possibly abusive coach Eteri Tutberidze? 
When we observe the actions of the ladies, whether it be the doping scandal of Valieva or outburst of Trusova or the dissociation of Scherbakova, we have to remember that they truly are just young girls. Since they were three years old, they have been trained to be champions of the ice. All they've ever known is the feeling of their bodies spiraling through the air and the scraping of nine-inch blades. The future of figure skating in Russia certainly looks bright, but it's clear that some changes must be made. It's high time that Russian skating institutions are held accountable, but only time will tell how exactly the sport will change.