Timberline's Take: Gonzaga the Favorite in March Madness
By: Zoey Jares, Staff Reporter/Advice/Sports
March 9, 2022
As the month of March begins, people all across the country are getting excited about March Madness. This year, the long-awaited tournament will start March 13 and go through April 4. The brackets have already been set. Currently, the top three teams in the nation are, Gonzaga, Arizona, and Baylor. 
As the madness begins, people are making their own predictions about who will win the tournament. Most sportscasters are leaning towards Gonzaga taking it all because of their record and standing with the top seed. Jay Ginsbach from Forbes claims that the number one seed is most likely to win and that there are only two occasions in which the 4th and 7th seed won. If he is right about this, then it is most likely that Gonzaga will win the tournament. While analysts think Gonzaga will win, I was curious to see what Timberline students predicted for the outcome.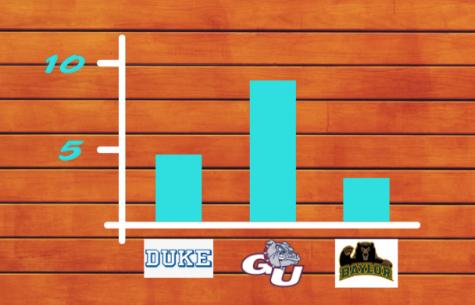 According to some of our Wolves, it is also most likely that Gonzaga will win. Duke and Baylor also were represented in our survey. Stay tuned throughout the tournament to see who is right. Go wolves!