Trader Joe's Seasonal Items Ranked
Well, it's that time of the year again. The leaves are changing, days are getting shorter, and "spookie seasons" are officially back. But most importantly, Trader Joe's shelves are stocking back up with brand new seasonal items. To celebrate, our class decided to buy as many seasonal items we could find in the store and tried them all. We've gathered our fellow classmates ratings 1-10 to find the average, giving you an open and honest opinion to see what snacks are worth your money!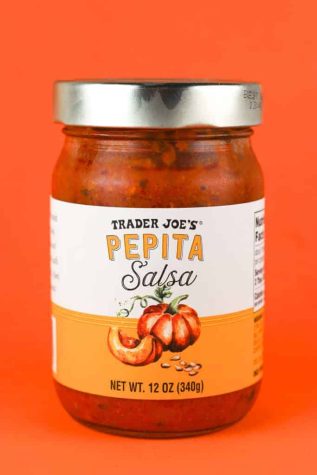 Pepita Salsa – 9.4/10
The Pepita Salsa was the shining star in TJ's fall snack lineup. While making a pumpkin flavored salsa might seem a bit far fetched, Trader Joe's absolutely hit it out of the park. "bright, zesty tomato and pepper flavors of a traditional chunky salsa with the texture and nuttiness of finely chopped pepitas" (Trader Joe's website) 
Zoey Jares told the staff  "that single jar completed my life, the salsa pleasured my taste-buds"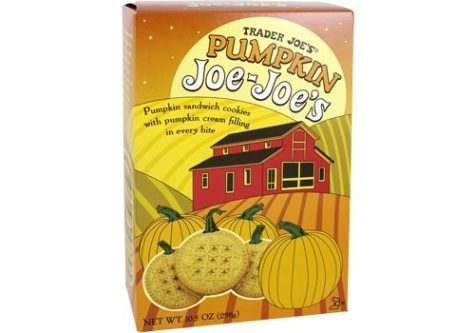 Pumpkin Joe-Joe's – 8.6/10
Pumpkin spiced flavored Joe-Joe's, (Trader Joe's interpretation of Oreo's) are a fun new twist on the classic Joe-Joe.  These crunchy and creamy cookies are unlike any other, and have proven themselves to be a must have fall staple for any snack enthusiast. Ian Kaheler says "the frosting melts in your mouth as soon as it hits your tongue and it is to die for" Jisong Ryu agrees "they were amazing and my favorite" Overall these addicting cookies are our top pick for you next autumn get together.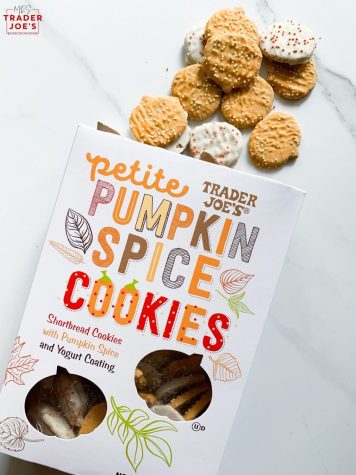 Petite Pumpkin Spice Cookies – 8.1/10
Trader Joe's Petite Pumpkin Spice Cookies are super delicious, made of a pumpkin-spiced shortbread covered in sweet pumpkin pie spiced yogurt frosting. These decadent cookies are a serious player in the pumpkin treat game, and the added crunch from the colored sprinkles on top really make this cookie complete.  Cara Halford says "they taste like fall in a cookie" making them the perfect treat for any breezy fall day.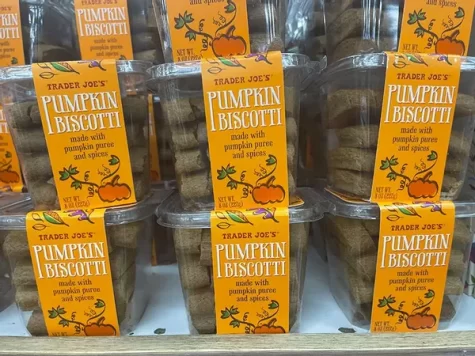 Pumpkin Biscotti – 7.7/10
Italian almond biscuits, made with pumpkin puree and seasonal spices such as nutmeg, cinnamon, nutmeg and ginger all play a part in creating that perfect warm feely sort of snack. Dillan says they're "crisp when you take a bite, it's like the feeling of the leaves crunching on the ground" And for an even tastier snack, try dipping them in the Spiced Cider for the perfect soft yet crisp autumn bite.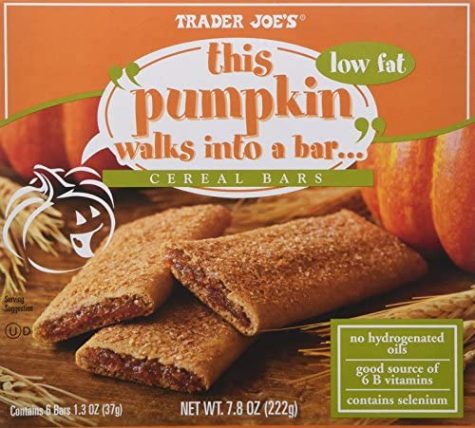 "This pumpkin walks into a bar" Cereal Bars – 8.1/10
      Trader Joe's has various cereal bars from blueberry to strawberry flavored – but when I see the pumpkin flavor come back into stock I always add this to my cart.  The cereal bar is soft and chewy and has a sweet fig- spiced tasting filling that is sure to put you into a fall mood. Ally Metzler says "I wake up in the morning for pumpkin breakfast bars" so clearly these bars are something worth waking up for.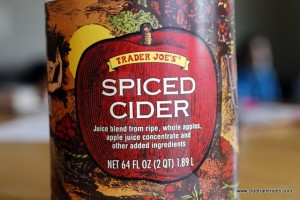 Spiced Cider – 7.1/10
Can you even say it's fall if you don't enjoy at least one cup of warm spiced cider? Well the simple answer is no, but Noah Danielson disagrees; he had said that " it was not enjoyable". Ryan Finke also agreed, he stated that "it tasted like someone put hot sauce on an apple, ate it and threw it back up".  However let me assure you that this cider is not to be overlooked. Ryan Reifschneider says "it's a smooth, yet subtle taste that sets it apart from any other cider."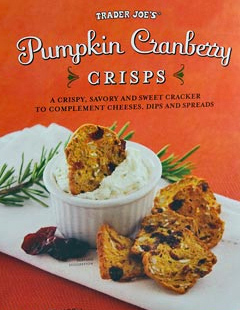 Pumpkin Cranberry Crisps – 6/10
These bite-size, loaf-shaped crackers made with pumpkin give them a crispy yet condensed taste. The pumpkin is complemented by cranberries, thyme, nutmeg, and turmeric making them a balanced sweet- savory cracker that can be enjoyed with fruit or cheese. Annabel Lawrence says "I love the pumpkin cranberry crisps because of the flavors that shine though. The cracker is both sweet and salty, while providing the rich, earthy flavors that come with the addition of pumpkin" These delicious crackers are best enjoyed on a charcuterie board alongside some figs and maybe even an earthy cheese.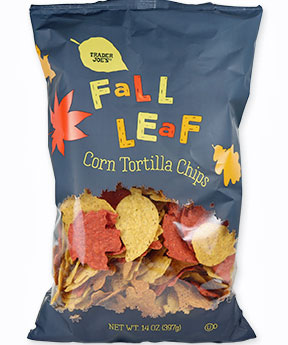 Fall Leaf Corn Tortilla Chips – 6/10
These colorful fall leaf shaped chips definitely grab your attention visually, but when tasting them they can be underwhelming- tasting like any other tortilla chips. Overall, while these tortilla chips were a little disappointing, they still hold there own as a classic tortilla chip. That being said, the color and shape add that special fall feel that makes these perfect for the Pepita Salsa.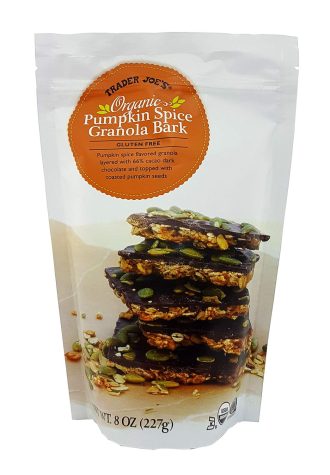 Pumpkin Spice Granola Bark – 5.4/10
The pumpkin spice granola bark is a gluten free favorite it contains, pumpkin puree, roasted almonds, seasonal spices, maple syrup topped with dark chocolate and salted pumpkin seeds. Personally I think this bark deserves a higher score and it would pair great with yogurt or an acai bowl.