Speech and Debate Team Wins Big at Bash at the Border Tournament
This weekend, January 13th-14th, Timberline's Speech and Debate Team reigned victorious at the Bash at the Border Tournament. For speech, Timberline won 1st place sweepstakes, and won 2nd place for the tournament in general, which included both speech and debate.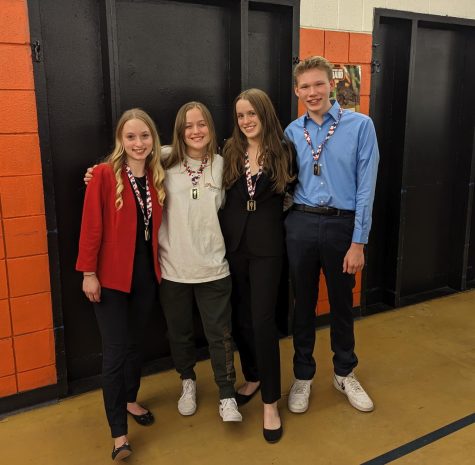 The first day of competition took place at Fruitland High School with the Wolves partaking in debate events ranging from Public Forum, to Congressional Debate, to Lincoln-Douglas. The next day of competition at Bishop Kelly High School proved to be even more fruitful for the Timberline Team. Below are the results for both days of the tournament.
Debate Results
Molly Lahart and Justice Sloyer: Top Finishers in Novice Public Forum
Brady Dunn and Cara Halford: Top Finishers in Varsity Public Forum
Speech Results
Augutus Wohlschelegel: 1st in After Dinner Speaking
Brady Dunn: 3rd in Communication Analysis
Paige Porter: 6th in Communication Analysis
Ize Upham: 2nd in Sales Speaking and 3rd in Informative Speaking
Izaak Olbera: 6th in Dramatic Interpretation
Divya Elancheran: 5th in Original Oratory
Blessy Bellamkonda: 4th in Radio Speaking
Overall it was a great weekend for Timberline's Speech and Debate team, be sure to wish them congratulations and good luck for their next competition: Rocky Mountain High School's Grizzly Growl Tournament!