What's Up Wolfpack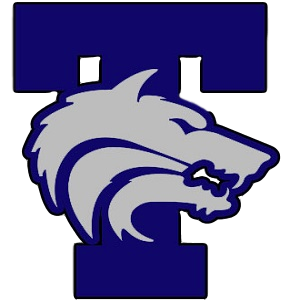 Hey Wolves, as the year comes to a close school continues to get more stressful. With finals and AP exams coming up soon and grade standards looming over our heads, you might find yourself feeling lost. Luckily, the Timberline Paw Print is here to help! Below you can find helpful information regarding the rest of this dwindling school year and some extra events you can attend!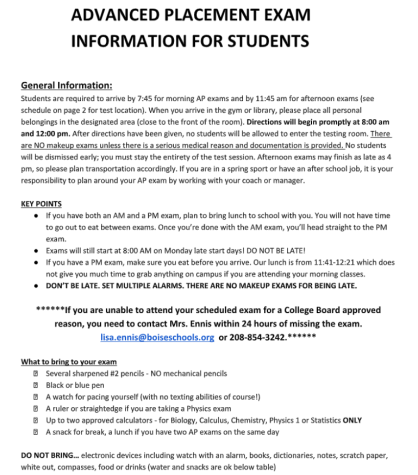 AP Exams
Obviously we can't help much with the test itself but we want to make sure everyone is prepared for the
ir testing days! The first piece of advice we'd like to share is DO NOT BE LATE!!! You get one opportunity for these tests and you do not want to mess it up. For morning exams you must be there by 7:45 a.m. and for afternoon exams you need to be there by 11:45 a.m. On Monday however, the exams will start at 8:00 a.m. Be sure you know your schedule and locations to prevent yourself from being late and miss
ing these important exams. Only 15 minutes after the set times the doors will be closed and no students will be allowed to enter testing rooms. If you happen to show up too late you will not be allowed to complete a make-up test either. Below are two VERY important handouts that will help you with preparedness and arranging your schedule. We wish everyone the best of luck on their exams!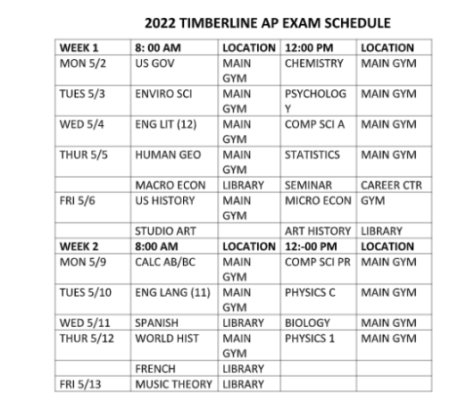 SENIOR INFORMATION
May 16- There will be a REQUIRED senior assembly happening Monday, May 16 at 2:20 p.m. in the auditorium. You will go to the auditorium following your 5th and 6th period exams. Caps and gowns will be distributed at this time, don't miss it!
Finals- The finals schedule will look a little different for seniors. They will begin Friday, May 13 so be ready! Your last day of high school will be May 18 and yearbook distribution and signing will happen the day prior to that. Check out the detailed schedule below for more information, good luck on your tests and congratulations for being high school graduates!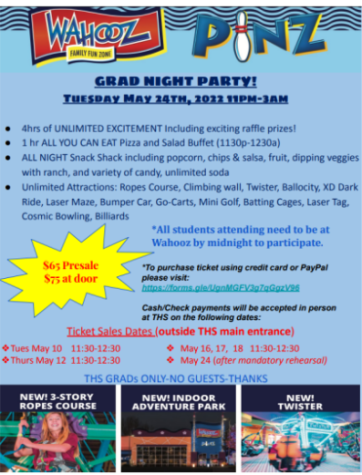 Senior Graduation Party- There will be a senior graduation party held at Wahooz! Tickets will be sold from 11:30-12:30 at the front entrance of the school on the following dates; May 10, 12, 16, 17, and 18. If you buy a presale ticket the cost will be $65 and tickets at the door on the night of the event will be $75. If you choose to buy your tickets in person you must pay with either cash or check but if you want to pay online you can use 
your credit card or PayPal (Pay Here; Grad Night Party (google.com)). The party will start at 11:00 p.m. and will finish at 3:00 a.m. Don't forget, you MUST be at the door by midnight to participate or you will not be allowed entry! We hope to see all of the seniors there, have a great time!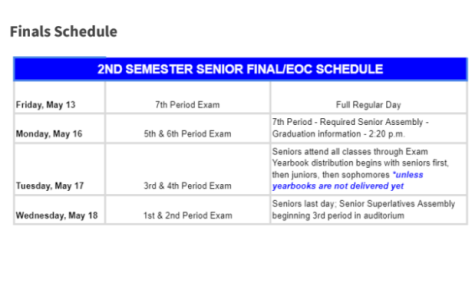 Upcoming Sports Events!
Friday, April 29- Boys Baseball Home game against Meridian High School and Girls Softball game at Meridian High school, come support these teams you won't want to miss it!
Tuesday, May 3- The Tennis teams play at Boise High, come out and support them! The girls Softball team has a home game as well against Kuna High School, be sure to check it out!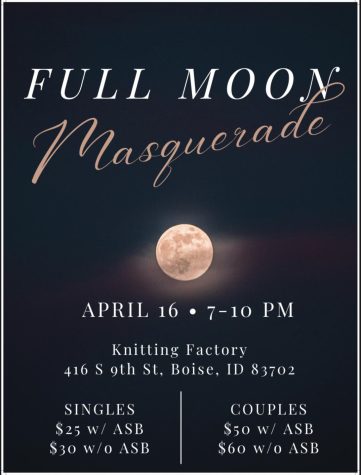 What's Up Wolfpack – 4/4/22 – 4/8/22
Hey Timberline! We're so happy to see everyone back at school, and excited to welcome you to the final quarter of the 2021-2022 school year! We hope that you all enjoyed your spring break, and remember that summer is right around the corner, with just a handful of weeks left. 
Still, the final part of the year is jam-packed with events at Timberline. Spring sports have yet to disappoint, with Softball and Baseball posting great records (check out Ally Metzler's post on the season's thus far!). As the weather gets warmer and the promise of summer becomes prevalent, it's important to remember that the Wolfpack still has to get through a couple of strenuous months. Testing is going on, with state required assessments and AP exams on the horizon. Check below to learn more about some important dates and the most exciting dance of the year. 
SAT's 
While the end of the year is always an exciting time, there are still aspects that require a more serious attitude. For Juniors, SAT day is right around the corner on Wednesday, April 13. There are postings in each Junior English class with room assignments ordered by last name. Testing begins at 8 a.m., and is expected to be finished by 12:30 p.m. You should go immediately to your assigned classrooms.  There are a few new rules this year, which are critical if you want to take the test. No backpacks are allowed in the building or in the testing room, and no cell phones, smart watches, or other electronic devices are allowed until the test is completed entirely. . Make sure you bring #2 pencils (not mechanical), either your school ID or Driver's license, a small snack and water bottle, and an approved calculator for the math section. The Timberline Paw Print wishes you good luck next Wednesday!
ISAT's
While it isn't necessary for Sophomores to take the SAT just yet, they are required to take the ISAT instead. The ISAT is distinct from the SAT's, and is online as opposed to the paper only SAT. These tests will also begin on Wednesday, April 13th st 8 a.m., but the requirements differ. Students should report by 7:45 a.m. to their required classrooms, and no backpacks are allowed in the building or testing room. Again, no cell phones, smart watches, or other electronic devices are allowed until the test is completed entirely. However, sophomores will need to bring a fully charged district issued laptop and charger, as well as personal headphones that can be plugged into your computer. You must also bring a writing utensil and school ID, and it is recommended that you bring a water bottle and snack for the break. The Timberline Paw Print wishes you good luck next Wednesday! 
Prom! 
Even though it may feel like testing weighs down the fun at the end of the year, one of the most anticipated events is unbelievably close – PROM! We recommend grabbing those dresses and bowties, and begin preparing for a night at a Masquerade ball. That's right, this year's theme is Full Moon Masquerade, and will be held at The Knitting Factory, located on 416 S. 9th Street, in Boise, ID. The big day is on Saturday, April 16, from 7-10 p.m. For students attending as singles, it is $25 to buy a ticket with an ASB card, and $30 without an ASB card. For students attending as couples, it is $50 for two tickets if both have an ASB card, and $60 without an ASB card. We hope to see you there for a night of fun and mystery. 
Well, that's all for these next few weeks Timberline. We wish you luck in all your endeavors these next few weeks, and remember to stay hungry Wolves!
WHAT'S UP WOLFPACK- 12/14-12/17
12/14-  The boys have a home game against Skyview! Sophmores play at 4:30, JV play at 6:00 and Varsity plays at 7:30.
12/15-  On Wednesday the Young Republicans club meets in room 226 during lunch.  Girls Basketball has a game! Sophomores play at  4:30 PM,  JV at  6:00 PM  and Varsity at 7:30 PM @Owyhee High School.
12/16-  Every Thursday Dungeons and Dragons club meets after school in room 208. The Boys Basketball team has an away game at Owyhee Sophmore boys play Burley at 3:30 and Varsity boys play Emmett Hill at 8:00 pm.
12/17 – Girls Basketball Plays and away game @Mountian View Sophomores play @ 4:30 Pm JV at  6:00 PM  and  Varsity  at 7:30 PM. There is also a wrestling meet @Wiley Dobbs against twin falls. The meet starts at 3:00 pm. Key club meets during lunch @ the clock tower, Tree club meets during lunch @ room 236.
WHATS UP WOLFPACK- 11/1-11/7/21
11/2- Today is a virtual day, due to the election taking place at school!  DECA also meets Tuesdays in room 227,  as well as the Young Democrats club which meets in room 114 during lunch. Math cafe happens every school day at lunch or after school, so if you need math help head to room 207!
11/3-  On Wednesday the Young Republicans club meets in room 226 during lunch.
11/4-  Every Thursday Dungeons and Dragons club meets after school in room 208.
11/5 –  On Friday there is a swim state meet- Girls start at 3:30 PM, Boys start at 6:45 PM the meet is located at the west YMCA, no fans are allowed to attend. Key club meeting during lunch @ clock tower, Tree club meeting during lunch @ room 236
11/6- On Saturday there is a second swim state meet- Girls start at 3:30 PM, Boys start at 6:45 PM the meet is located at the west YMCA, no fans are allowed to attend. Powder Puff @5:30 in the Timberline main gym
WHAT'S UP WOLFPACK- 10/25-10/31/21 
Hello Wolfpack! We here at the Timberline Paw Print hope you had a lovely three day weekend. Even amidst the gloom and drear, we hope you all did something fun, whether it be curling up and reading a book, or binging your favorite new show. Maybe you even got in the spirit of spooky season by carving pumpkins or going to a haunted house! While of course having a three day weekend is nice, there is so much coming up this week to look forward to! Thanks to the Timberline Student Council, Timberline is hosting Red Ribbon Week, a way for students to D.A.R.E. to stop using drugs.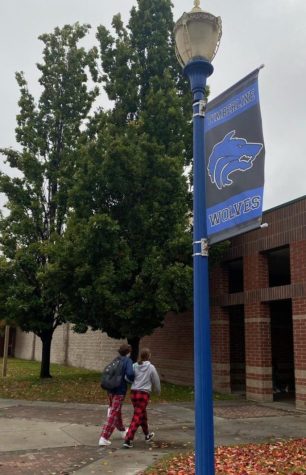 Red Ribbon Week 
This Monday was Pajama day, and many students and teachers alike were seen sporting their favorite plaid pajama pants and comfy sweatshirts. Tuesday is tie-dye day, so bring all your favorite colors! Wednesday is crazy sock day, and it would be great to see some funky footwear. Thursday is flannel day, so do your best to imitate your favorite lumberjack! Finally there is Friday, where you can show you class pride by wearing your class shirt or don your future college's gear!
We all owe a huge thank you to our Timberline Student Council for D.A.R.E. -ing to put such a fun week on! Let's show our appreciation by having fun on these spirit days!
Band Takes 1st Place… Again! 
There's no doubt that Timberline sports are great, but the Timberline Marching Band is an aspect of our school's extracurriculars that is commonly overlooked! Year after year, Mr. Rodriguez continues to bring amazing performances to life, and the band doesn't get nearly enough credit. Most recently, the Timberline Marching Band took first place at Treasure Valley Festival of Bands in Nampa, ID. The Band also received honors such as Best Visual, Best Music, Best Percussion, and Best Overall Effects.
While this was certainly a great win, the Band's biggest competition of the year is coming up this weekend at the Boise State Stadium for the DIII Competition. It's such an easy drive and the perfect way to cap off the season. Come out and support our favorite musicians!
Choir takes Flight! 
Our wolves choir had their fall concert this past Tuesday, Oct. 19. They had two shows, with one at 5:30 p.m. and the other at 7:30 p.m. The show featured all of Timberline's choir groups: Cantor Bel, Chantez!, Encore, and A Capella. It was a lovely performance just in time for fall, and the choir followed with a retreat on Oct. 22. Make sure to look out for new choir concert updates! 
Boys Soccer WINS State 
If one thing's for certain, it's that the Timberline Boys Soccer team was the picture of perfection during the 2021 soccer season. After going undefeated in the regular season the Wolves suffered a tough loss in the District Final against Boise High School, losing 1-0. It was difficult for such a gritty game to come to a less-than-desirable end. But if there's one thing we know about our Wolves, it's that they are resilient. During the State tournament held in Eagle, ID, the Wolves faced off against a tough Madison team in the quarterfinals on Oct. 21, but took the win, 1-0. Then in the semifinal it was Rocky Mountain on Oct. 22, which was another win, this time 5-3. And finally the 2021 Idaho State Championship game was played on Oct. 23 against none other than the Boise Braves. But the Wolves were out for redemption, and they got it with their 2-1 WIN!
It was a wonderful season for players and fans alike, and our soccer champions deserve the love. If you see them, make sure to give a big congratulations to the boys!

Trunk or Treat- 10/31/21
This Sunday (Halloween!) Timberline is hosting a Trunk or treat event! Check out the image below for details.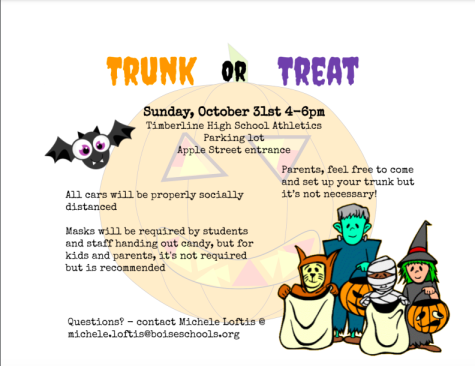 Well Wolfpack, it looks like that's it for this week's Campus News. Enjoy the kaleidoscope of colors as the fall foliage continues to thrive, but make sure to pack a rain jacket! This week will be loaded with showers. 
Of course, we have to remind you to be weary of ghosts and ghouls this upcoming weekend as the month of October comes to a close. If you're feeling uncreative, check out Ally Metzler's costume ideas for this Halloween weekend! 
Have a Spooktacular week, and remember to stay hungry Wolves!
What's Up Wolfpack- 9/20-9/24
Pinwheels for Peace- 9/21/21
This upcoming Tuesday, September 21st is national peace day! Watch for hanging pinwheels and posters for peace on this day!
Club Rush- 9/22/21
Club rush is happening this week! If you are interested in any of the clubs Timberline has to offer watch for sign ups coming soon
What's Up Wolfpack- 9/13-9/18/21
Get ready for homecoming wolves! The dance will be this Saturday, the  Sept. 18th from 7-10 p.m.
This dance will be outside so remember that you should wear comfortable shoes and you are still required to wear a mask at all times. Tickets can be purchased in room 304 at break. Lunch or before school, $20 with ASB and $25 without. We hope to see all of you there having a blast at the glow themed dance!