Super Bowl LVI: The Battle Between Bengals and Rams
By: Ally Metzler, Staff Writer/Photographer/Social Media Manager
February 1, 2022
The National Football League's 56th Super Bowl is approaching in no time and our Timberline staff wanted to weigh in with predictions on the outcome of the long-awaited championship. The rivalry against AFC champions, the Cincinnati Bengals, and NFC champions, the Los Angeles Rams, will be a game associated with the phrase "on the edge of my seat." Based on how these two teams fought tooth and nail to get here, I don't think either one of them will be willing to let victory slip out of their glove-covered hands. 
Last week, we interviewed a few different football fans (who also happen to be Timberline teachers) about their picks for the AFC and NFC Championships. The general consensus was that the Chiefs would dominate the Bengals in the AFC, a game that stunned all NFL fans and discredited almost all of the Chiefs staff votes. Winners in the NFC was fairly split between the 49er's and the Rams, with the Rams taking it home, 5 teachers were left with hope that they can make it all the way to getting ring on their fingers. Out of the 12 teachers that we interviewed, only one teacher correctly picked who would face off in Super Bowl LVI: Mr. Bronner, we congratulate you. 
No game is any less surprising than the last, making you that much more excited to see what direction the Super Bowl will go.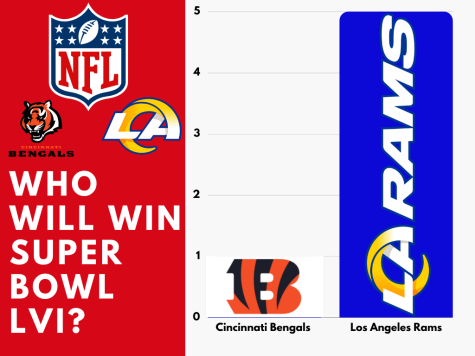 February 13 at 4:30 will be a day to remember. A day including the NFL game of the year, an incredibly talented collective of artists performing at the Pepsi halftime show and the year's best commercials. Sit back, try to relax and enjoy the excitement the NFL Super Bowl LVI will bring.