Mitski Presents Newest Album: Laurel Hell
By: Ally Metzler, Staff Writer/Photographer/Social Media Manager
February 8, 2022
It's been 4 years since the incredibly talented Mitski Miyawaki, an indie-rock singer songwriter, has released an album, and now that it's out, expect to be transported to the one of a kind world Mitski's music creates. The album, Laurel Hell, reels you in and carries you through the emotional words Mitski projects. The title comes from a folk term involving the poisonous flower, a Mountain Laurel, that entraps its victims with its prickly branches. This name resonated within Mitski, as she feels she might be trapped as well. Having originally thought that she was quitting the music industry forever, this surprise album acts as a display case of Mitski's most vulnerable emotions. During a cover story interview with Rolling Stone editor Angie Martoccio, Mitski explained her supposed music industry conclusion stating "…I could see a future self, who would put out music for the sake of keeping the machine running. And that really scared me." Laurel Hell was a constant work-in-progress for Mitski. She spent 3 years revising songs, initially only working because her contract required another album. In the song "Everyone," Mitski sings "Sometimes I think I am free, until I find I'm back in line again." The song then belts into a final piano crescendo, causing me to further question whether or not this is what she wants and intensifying the album even more.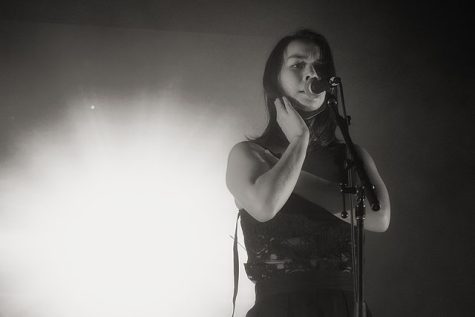 Laurel Hell is filled to the lyrical brim with torn-apart relationships, questionable career choices, distraught emotions, strong opinions and feelings of self-betrayal. There is nothing like the lyrics Mitski generates, but in my opinion, the music steals the show in Laurel Hell. Every song, every lyric, has a perfect musical counterpart. This album revolves more around spunky, 80's pop melodies than her previous slower albums, making this album a perfect opportunity to tangle around the feelings of liveliness and lyrical sadness. My favorite song, "Working for the Knife", is a single that was released in 2021. The song incorporates her feelings towards the music industry by having lyrics like "I used to think I'd be done by twenty. Now at twenty-nine the road ahead appears the same." Mitski continues to sing about her constant animus towards her role in the music industry and doesn't know for sure if she will ever be released from its tight grip. Laurel Hell is an album so good that it will trap you the way mountain laurels do and never let you go. 

Track Rankings: 
Working for the Knife 

Heat Lightning

Everyone

The Only Heartbreaker 

Valentine, Texas

Love Me More

There's Nothing Left Here for You

That's Our Lamp

Should've Been Me

Stay Soft

I Guess
Listen now on Spotify, Apple Music, Amazon Music and Soundcloud.