Remembered with Love: Robbie Coltrane Dies at 72
Robbie Coltrane, the Scottish actor infamous for his role of the kind, loving childhood character Rubeus Hagrid in the bestseller Harry Potter series, passed away on October 14, 2022 at the age of 72. Coltrane's agent, Belinda Wright, confirmed the actor's passing at the Forth Valley Royal Hospital in Larbert, Scotland. 
Coltrane, born as Anthony Robert McMillan on March 30, 1950, in Rutherglen, Scotland, grew up near Glasgow and attended the Glasgow School of Art where he studied drawing and painting. However, after struggling to fully express his creativity in his work, Coltrane started pursuing an acting career in his early 20s, adopting his stage name in tribute to the jazz saxophonist John Coltrane. The actor attracted critical acclaim in several TV appearances, including "Cracker", earning Coltrane a BAFTA award for best TV actor for three consecutive years, and James Bond films "GoldenEye" and "The World Is Not Enough". But in 2001, Coltrane gained the most popularity for his role in the well-known "Harry Potter" series, playing Hagrid, the lovable half-giant groundskeeper of Hogwarts Witchcraft and Wizardry. He appeared in all eight films from 2001 to 2011. 
The young actors who grew up playing the characters in the "Harry Potter" films, fondly reflect on the times they've spent with Coltrane on set, remembering him as someone who would uplift their spirits with jokes and laughter, and always provide words of encouragement.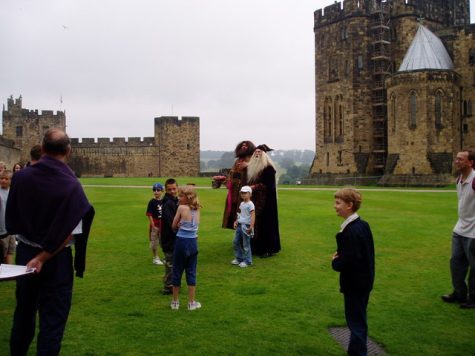 "Robbie was like the most fun uncle I've ever had, but most of all, he was deeply caring, and compassionate towards me as a child and an adult," Emma Watson, who played Hermione in the films, wrote in her tribute to the actor. "His talent was so immense it made sense he played a giant — he could fill ANY space with his brilliance."
Daniel Radcliffe, the actor who portrayed Harry Potter, said in a statement about the actor's passing "I feel incredibly lucky that I got to meet and work with him and very sad that he's passed. He was an incredible actor and a lovely man." 
On every social media platform, actors, directors, and others in the film industry paid their respects to Coltrane, with the author of the bestselling "Harry Potter" series JK Rowling tweeting: "I'll never know anyone remotely like Robbie again. He was an incredible talent, a complete one off, and I was beyond fortunate to know him, work with him and laugh my head off with him," she wrote. "I send my love and deepest condolences to his family, above all his children," said Rowling. 
After spending years portraying the character that had defined the childhoods of millions around the world, Coltrane's passing has left many who grew up reading and watching the series fondly remembering how the actor had brought the character to life, naturally showcasing the kind and heartwarming nature of Hagrid on the big screen. In the 2022 HBO Max special "Harry Potter 20th Anniversary: Return to Hogwarts" that reunited the cast and filmmakers of the franchise, Coltrane shared his thoughts on his role and the impact it has had on younger generations: "The legacy of the movies is that my children's generation will show them to their children," he said. "So you could be watching it in 50 years' time, easy. I'll not be here, sadly, but Hagrid will, yes," said Coltrane. Survived by his sister Annie Rae and his children, Spencer and Alice, Coltrane's legacy continues both through his family and the timeless memories he has created.