On Saturday, Oct. 7, a group of Palestinian militants known as Hamas broke from the blockaded region of Gaza and into around 22 Israeli towns and communities, gunning down and abducting civilians. By the end of the weekend, an estimated 1,400 Israelis were killed by Hamas (Israel Ministry of Health), the vast majority being civilian women and children. The coordinated attacks can be understood as a massive breach of Israeli security, with Hamas militants using advanced explosives to break through the fence enclosing Gaza, and operating vehicles like motorcycles and pick up trucks when invading the towns. The Israeli military, stunned by the strength and shocking breadth of the attacks, struggled to gather a response. Israeli Prime Minister Benjamin Netanyahu declared Israel at war with Hamas just a few hours after the attacks, announcing that Israel would be launching retaliatory airstrikes. These airstrikes have continued since Netanyahu's announcement, with an estimated 10,000 (Nov. 7) killed in Gaza since the siege began on Oct. 8, according to the Palestinian Ministry of Health. 
Terms to Understand
Palestine 
Palestine is known as the State of Palestine, although its legal status and territory is a subject of controversy. It is currently recognized as a State by 138 of the 193 United Nation member states, but is not recognized by the United States. Palestine's conflicting legal status is a result of an embattled history over territory between it and Israel. In Roman times, Palestine was made up of the West Bank, Gaza, and East Jerusalem territories, but the Bible states that these lands are all parts of the Jewish kingdom. Israel became a nation in 1948, but the status of parts of its land (the West Bank, Gaza, and East Jerusalem) remain disputed today. Currently, Palestine has a President and Prime Minister, and its government stands in staunch opposition to Hamas.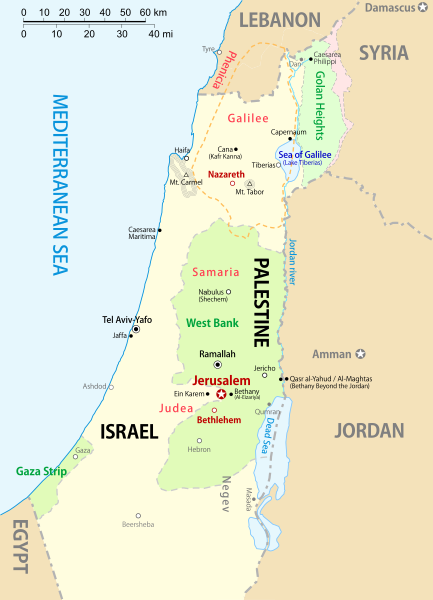 Hamas
Hamas and Palestine are not equals. Hamas is a Palestinian militant group that has occupied the Gaza strip since 2007. Hamas' goal is to replace Israel with an Islamic state, destroying Israel's culture and people. Hamas has been designated as a terrorist group by Israel, the United States, the European Union, and the United Kingdom, as well as many other countries around the world. Although the exact reasoning that provoked these attacks is unknown, critics of the Israeli occupation note that 2023 has been the deadliest year on record for Palestinians living in the Israeli-occupied West Bank. 
Gaza Strip 
The region of Gaza, also known as the Gaza strip, is a 25 mile long strip of land between Israel, Egypt, and the Mediterranean sea. It is home to 2.3 million people, and is as population dense as London.
The Gaza strip has been occupied by Hamas since 2007, but Israel controls the airspace and coastline, regulating the goods and people that go in and out of the area. Along with help from Egypt, Gaza has been under an Israeli blockade since 2007. Israel began a siege on Gaza via airstrikes on Oct. 8, and has advised Palestinian civilians to evacuate the northern part of Gaza. Israel, in protest of the Hamas attack, has shut off water and disabled the power grid in Gaza.  
U.S. Involvement 
President Joe Biden released a joint statement along with France, Germany, Italy, and the United Kingdom on Oct. 9, stating "we express our steadfast and united support to the State of Israel, and our unequivocal condemnation of Hamas and its appalling acts of terrorism." Just a few days later, Secretary of State Antony Blinken landed in Israel, emphasizing U.S. support. The U.S. has acknowledged, however, the necessity of aid in Gaza. working with Egypt to ensure that water, food, generators, and emergency services can be distributed through the southern border. "It is critical that aid begins flowing into Gaza as soon as possible," Blinken said. President Biden landed in Tel Aviv, Israel, on Oct. 18, pledging support for Israel and its military, but reiterating the need for humanitarian aid in Gaza. 
Why do we care? 
The events that have occurred in Israel over the past few weeks have been both traumatizing and devastating. The extensive photos and videos from the crisis have allowed the world to understand how truly awful the situation has become. It's difficult to understand why such violence is occuring, and yet it's important to know that this is a highly complicated issue. Yet at the end of the day, there is no reason for this many civilian lives to be lost. Truly, there are no winners in a conflict like this one. As students, we must understand that these kinds of events are tough to process, and that our school should come together and support each other during this difficult time. Furthermore, we must continue to educate ourselves about what's happening, and respect those around us who may hold differences in opinions. The Timberline Paw Print sincerely hopes that you continue to lead your life with kindness and grace, hopefully finding peace even as these horrible events continue to unfold.