When Drama Overshadows Accomplishments: The 2022 Oscars
The 2022 Oscars were this last week on March 27 and no doubt the most viral and talked about moment from it was when Will Smith walked on stage and punched Chris Rock. This was after Chris Rock had made an insensitive joke about Smith's wife Jada, saying she looked like GI Jane which alludes to the fact that she is bald.  Jada did not completely choose to be bald in fact it was from her hair loss condition alopecia which led to her choice to shave it all. She has openly talked about her struggle with alopecia and did not make light of it in any way. Many think that Rock was in the wrong for making such an insensitive and ignorant joke on live television and that Smith had a right to protect his family. Others believe that Smith should have never resulted to violence and that it's Rock's job to make jokes about people. Smith did end up apologizing to the academy and viewers… as he accepted his first Oscar award. It was a huge night for Will Smith and that moment of unprofessional drama seemed to starkly overshadow every other achievement throughout the night. People should focus more on the uplifting and important milestones which got ignored for the most part.
Soon after the slap there was a moment of silence for Ukraine amid it's war with Russia. It was very important that a big event like this recognized the war and created some more awareness on live television. It showed a title card with a call to action, saying that the community should do all it can to donate to charities and support Ukrainian citizens as much as possible. Many stars also wore blue and gold accents (Ukrainian flag colors) on their red carpet outfits to show their support.
For the first time in Oscars history there were 3 women hosts. They included Amy Schumer, Regina Hall, and Wanda Sykes. The three women were very enthusiastic, had lots of funny skits, and their performance was received well on social media. It was refreshing to see some women and people of color running the show. The Oscars have made a large effort to be more inclusive overall and it has improved a lot.
The most heartwarming moment of the night was when actor Troy Kotsur received his Oscar for best supporting actor in CODA. He played the role of a deaf father of a hearing child. He is only the second deaf actor to receive an Oscar. The presenter, Yuh-Jung Youn, presented his award in sign language. He gave a very touching speech thanking his castmates for making everything possible.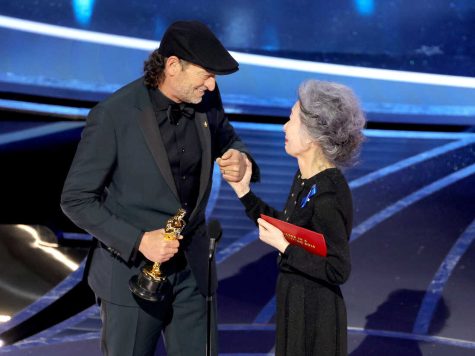 Other Winners
Best Picture: CODA
Best Actor: Will Smith in King Richard
Best Actress: Jessica Chastain in The Eyes of Tammy Faye
Best Original Song: No Time To Die by Billie Eilish and FINNEAS
Best Animated Feature: Encanto
Best Director: Jane Campion for The Power of the Dog
International Feature Film: Drive My Car
Best Supporting Actress: Ariana DeBose in West Side Story
Best Supporting Actor: Troy Kotsur in CODA
Best Documentary Feature:  Summer of Soul
Live Action Short Film: The Long Goodbye
Best Original Screenplay: Belfast- Kenneth Branagh
Best Adapted Screenplay: CODA- Sian Heder
Best Makeup and Hairstyling: The Eyes of Tammy Faye- Linda Dowds, Justin Raleigh, Stephanie Ingram
Best Visual Effects: Dune- Gerd Nefzer, Tristan Myles, Brian Connor
Best Original Score: Dune- Hans Zimmer
Best Animated Short Film: The Windshield Wiper
Best Short Documentary: The Queen of Basketball
Best Cinematography: Dune- Greig Fraser
Best Costume Design: Cruella- Jenny Beaven
Best Film Editing: Dune- Joe Walker
Best Production Design: Dune- Patrice Vermette, Zsuzsi Sipos
Best Sound: Dune- Mark Mangini, Theo Green, Ron Bartlett
In the end, these accomplishments and tributes matter much more than a single moment of violence. As of April 2nd Will Smith has announced his resignation from the Oscars Academy, which means he may not be eligible to receive an award in the future.