Paint to Pavement: Senior Parking Spots
By: Ally Metzler, Staff Writer/Photographer/Social Media Manager
September 6, 2022
The 2022-2023 school year at Timberline has brought in new sophomores, new teachers and new energy, but it also brings a new tradition; individual senior parking spots! An idea brought up by the Student Council has changed the entire face, or pavement, of Timberline High School. This new idea allows every senior the opportunity to personally paint their own parking spot of whatever illustrations they may choose. 
Now, as you walk through the parking lots of Timberline you become captivated by the explosion of color that covers the once bare cracked asphalt. These painted parking spots let creativity shine through our senior student body at Timberline and allow us to get a glimpse into the art they have created. No spot is the same; you will see a range of color, design and individuality. The spots include murals like landscapes, logos, slogans and more. Just step outside or take a look at this slideshow of photos to get a look at the world of imagination our seniors have created. 
These parking spots deserve recognition! Vote for your favorite parking spots in the poll below. The winner of the poll will receive a gift card from the local coffee shop, Zero Six Coffee Fix.
What is your Favorite Senior Parking Spot?
Sorry, there was an error loading this poll.
*Not all parking spots are included in this poll.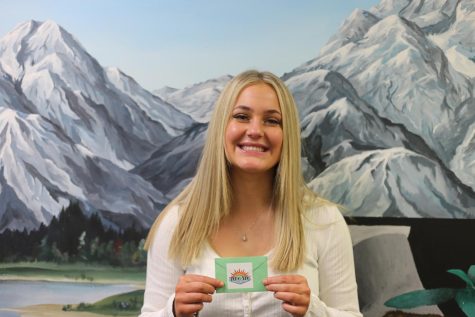 Congratulations to Alyssa Pike, winner of the Timberline parking spot poll! Her spot had 76 votes, more than every other spot by a landslide. Her creative, "see you l8r dude" is deserving of this very special award.