Boise Skies Fill With Balloons
Over the upcoming Labor day weekend, many Boisians plan to escape the sweltering heat, but those who stay are in for a treat at the 31st Spirit of Boise Balloon Classic.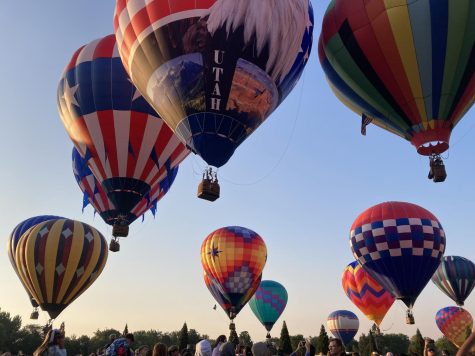 The annual classic, originally called the "Boise River Festival Hot Air Balloon Rally," was first started in 1991 by Steve Schmader and Scott Spencer. As the festival's name transformed from the aforementioned to the "Spirit of Boise Balloon Rally" and finally to the "Scott Spencer Spirit of Boise Balloon Classic" its purpose stayed the same: to bring beautiful balloons to all of Boise. 
This year's festival, started on Wednesday, August 31st and stretching through Sunday, September 4th, has 49 hot air balloons all with a multitude of colors and designs.  From tropical themes to tiger stripes each balloon is paired with a unique name and a trained pilot. The balloons are set to launch at least 3 times over the course of Labor Day weekend from 7:15 am to 9:00 am. 
When they aren't floating over the foothills they can be found dotting the greens of Ann Morrison Park. Between the balloons there are food trucks, vendors, and live music to keep viewers entertained throughout the day and into the evening. Each day of the Classic is marked by a special event.
On Wednesday, known as  "CapEd Credit Union Kid's Day" there was an inaugural launch of the balloons at dawn as well as free flights for kids and lessons from professional aeronauts on the mechanics of the balloons. 
On Thursday, known as "Media Day", intended to celebrate the multiple radio and TV sponsors of the festival, the balloons stayed at Ann Morrison and there was an optional flight. 
 On Friday, the "Nite Glow Spectacular" begins. In the morning there will be a tribute launch to honor Larry Gerbert, a journalist at KTVB who passed away in spring of 2022. The Nite Glow Spectacular will begin at 5:30 pm with live music and lights as the public is treated to an evening showing of the balloons.
To pair up with the previous late night the following Saturday is the "Dawn Patrol". The balloons will be set up at 5:30 am and launched as the sun rises.
Five fun days of activities are wrapped up by the Sunday finale: "Last Dance". This final launch day will take place at dawn and marks the close to the Boise Balloon Classic. 
The Classic has become a hallmark of Boise, bringing together the community to celebrate and witness the breathtaking hot air balloons. For those who can't attend any of the events, they are still sure to see balloons floating over Boise this weekend. 
For a full schedule of events go to: https://spiritofboise.com/home/