Our Superman Substitute: Mr. Curtis Haines
When you walk into the Timberline High School cafeteria, you will probably be greeted with the aroma of fresh food prepared by the lunch ladies, met with sunshine pouring in from the skylights, and bombarded with the sounds of Timberline. There's no doubt that the cafeteria, also known as The Bluffs, is a center for some of the school's most important events. Every student walks through the space multiple times a day, and it is a place that every teacher, alumni, and pupil is well-acquainted with. While the cafeteria is an iconic part of the school, there is one key part of the area that is often overlooked: the bookroom. While the bookroom may not necessarily be the most exciting-sounding place, it is nothing less than an integral part of our school. Every student will probably make a trip down to the bookroom at some point or another, typically at the beginning of the year, in order to retrieve their proper textbooks. And yet, what makes the bookroom the bookroom is not even the textbooks that fill it, but instead its chief attendant: none other than Curtis Haines. 
Mr. Haines has been working at Timberline for 23 years now, and managing the bookroom since it was added, about 17 years ago. He started off his career in the district as a basketball and football coach, with over 30 years of experience between coaching at Bishop Kelly, Boise High, and Timberline. After about six years of coaching here at Timberline, Mr. Haines was offered a job as the in-house suspension coordinator, and then was assigned to the bookroom. 
It's easy to assume just by looking at Mr. Haines that he is a strict, gruff type of teacher who scolds students when they come to the in-house suspension program. In reality, this could not be further from the truth. Actually, Mr. Haines is more often referred to as a "gentle giant" by colleagues and students alike. So while directing in-house suspensions is certainly not the easiest job in the world, Mr. Haines is very upbeat about the work. "I just tell people that I run the in-house suspension room, and that's just kids who make poor choices or are struggling in their classrooms, you know, maybe struggling personality wise. We basically bring them down here for a little break, supervised, and make sure they're doing their work. If they want to talk, we can talk, and if they don't, that's cool too," Mr. Haines said.
"
We basically bring them down here for a little break, supervised, and make sure they're doing their work. If they want to talk, we can talk, and if they don't, that's cool too."
— Mr. Haines, talking about the in-house suspension program at Timberline
In fact, what Mr. Haines has done for the suspension program is a thing of beauty. There's no doubt that the pressures of being a teen are difficult, and it's easy to get caught up in all the chaos. Oftentimes, this stress can manifest itself in the classroom, and we do things we wish we hadn't done. Yet Mr. Haines and the bookroom provide a cozy, relaxed atmosphere, where any student can learn to thrive again. The warm glow from the bookroom paired with Mr. Haines' quiet presence is the perfect place to regroup and maybe even have a good conversation. When asked about his favorite part of the job, Mr. Haines immediately said: 'It's the interaction with the kids, and actually with the teachers here as well. Almost everyone in education has a love for kids, so we all kind of share that."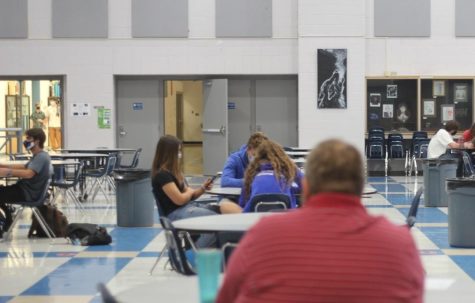 Still, like everything in the past two years, Mr. Haines' role in the school has been subject to change. Most recently, Mr. Haines has become the go-to substitute for the entire school. In fact, that's where most students recognize him from. Nearly every Timberline student knows the feeling of walking to class and seeing the white page that reads "Class will not be held here today. Please report to the cafeteria and sign in with Mr. Haines." Naturally, everyone files down to the cafeteria and spends their class period scattered about the tables, with Mr. Haines watching over them. This job may seem simple or mundane at first glance, but a specific set of demands are brought with this new system. "There's a certain amount of stress to it," Mr. Haines said. "A lot of it comes down to how well behaved the kids are. You know, if you have three classes of squirrels, it becomes pretty stressful. But if everyone just does their work and chills, then it's pretty easy." 
This current arrangement, however, highlights an underlying situation that is seriously impacting our school: the substitute teacher shortage. Right now, there are extremely low numbers of willing substitutes in the district. That, coupled with the guidelines regarding teachers staying home due to any kind of sickness or COVID exposure, makes finding a substitute more difficult than ever. "A lot of our subs were elderly, or former teachers or retired folks who just wanted something to do on occasion, and when COVID came it hit that group of people very hard, and they didn't want to go out and do anything. And as soon as that happened, the number of classes held in the cafeteria sort of just rose," Mr. Haines said. While this situation is certainly not ideal, Mr. Haines has accepted every challenge thrown at him. Every single period of the day there are classes held in the cafeteria, sometimes even two to three per period, and Mr. Haines is there for all of them. 
As we progress through school throughout our lives, nearly all of our teachers have some sort of impact on us. Whether it be a negative or positive effect, the way they teach us alters the way we learn for the rest of our lives. We may encounter teachers who truly become mentors for us, and others who we never want to see again. And amidst these experiences there are the people who support us in ways we don't even realize, and make the experience of education better for everyone around them. Mr. Haines is one of those people. Each day, he comes ready to work and aid the school in any way possible. So even during confusion and chaos, one thing is for certain: the faculty and students of Timberline are extremely lucky to have a teacher, and person, like Mr. Haines.